CSA Compliant Grease Interceptors in Ontario & Eastern Canada including Quebec, New Brunswick, Nova Scotia, PEI, & Newfoundland & Labrador
Goslyn Ontario Customers
Goslyn commends the Commercial Kitchens and Restaurants that have significantly improved their grease recovery performance, practices, procedures, and working environment. Goslyn customers are grease trap compliant in any jurisdiction.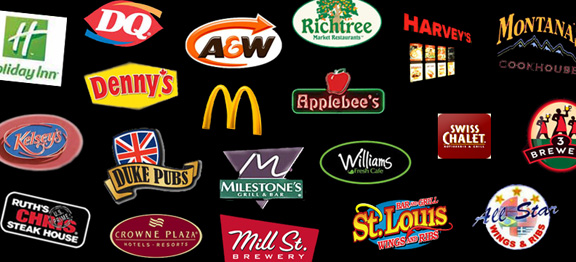 Goslyn - Automated Grease Recovery Devices improving the kitchen facilities and finances of Fast Food and QSR Restaurants, Casual Dining, Fine Dining, Food Courts, Retirement Homes, Long Term Care, Colleges, Universities, Bakeries, Golf Courses, Cafeterias, Summer camps, and Banquet Facilities.

Goslyn Grease Recovery Device installations include Flashback Diner, Barrie - Hockley Valley Resort, Orangeville - Boston Pizza, Toronto - Roti Hut, Scarboro - Keg Restaurants, Whitby - St Demetrius Residences, Toronto - Ehatare Nursing Home, Toronto - Yorkdale Shopping Centre Food Court, Toronto - Miller Tavern, Toronto - Queens University Residence, Kingston - Mississauga Grand Banquet Hall - Toronto Cricket Club - Toronto Ladies Golf Club - Georgy Porgys Bar and Grill, Richmond Hill - White Oaks Resort & Spa, Niagara On The Lake - Camp Pathfinder, Algonquin Park - Holland Christian Homes, Brampton - Allans Pastry Shop, Toronto - Bread and Butter Bakery, Kingston - The Steeves & Rozema Group, Windsor - Dufferin Mall Food Court, Toronto - Hornby Glen Golf Course, Halton Hills - The Dunfield Retirement Residence, Toronto - General Dynamics Canada Cafeteria - The Huron Club, Collingwood - Southbrook Retirement Community, Brampton - Zucca Trattoria, Toronto - Denninger's Foods of the World, Hamilton - Canadian Tire Cafeteria, Concord - Tim Hortons, Throughout Ontario ...

Goslyn Industrial Grease Recovery Devices are perfectly suited for hospitals, hotels, resort properties, and food manufacturing.
Goslyn Automated Grease Interceptors
Setting Grease Recovery Standards in Canada