An innovative Grease Recovery System with advanced FOG separating technology is becoming the new standard replacing conventional grease traps in all food service sectors.
Goslyn Data Sheets
Goslyn Grease Recovery Devices

GOS40 - 40 litre - 10USG - Cut Sheet - PDF
GOS60 - 60 litre - 15USG - Cut Sheet - PDF
GOS80 - 80 litre - 25 USG - Cut Sheet - PDF
GOS80LP - 80 litre - 25 USG - Low Profile - Cut Sheet - PDF
GOS160 - 160 litre - 50 USG - Cut Sheet - PDF
Certifications

Cantest Independent Testing - PDF
Specification Sheets
Goslyn - Sizes, Measurements, Capacities - Specification Sheet - PDF
Goslyn Sales Brochure - Compliance, Customers, Sizes & Measurements - PDF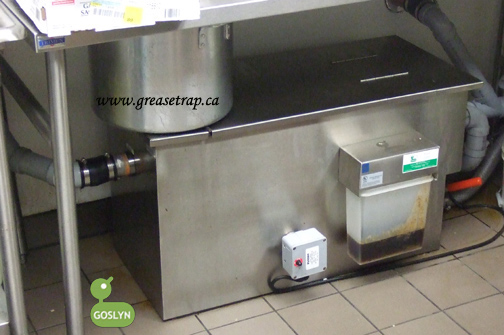 Goslyn recovers 99.6% of the fats, oils, and grease from food service waste water. Goslyn recovers FOG from 3-compartment sinks, pot sinks, automatic dishwashers, rotisseries, and combi-ovens simultaneously.
Goslyn Interceptors provide superior efficiency, durability, design, and reliability compared to any grease trap, grease interceptor, or grease recovery system on the market.

Having a conventional grease trap in a quality food service establishment is like wearing construction boots with an Armani suit. Our kitchen and maintenance staff love the Goslyn Grease Interceptor.
Private Country Club - Markham, Ontario

Automated Grease Recovery
Grease Interceptors Proven Worldwide