"Soil and water are the foundation of human existence - without a clean water supply and ample food grown from the soil, the human species is destined for disaster."
Holly D. Elmore - Zero Waste Zone
Land Contamination
Sanitary Sewer Grease Blockages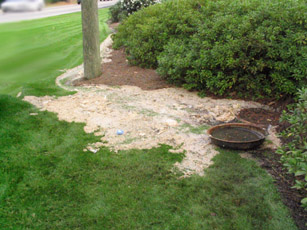 Most sanitary sewer overflows are caused by restaurant grease. Grease traps and interceptors are poorly maintained as a rule. Standard grease traps must be maintained on a schedule. Unmaintained grease traps and grease interceptors do not perform to today's environmental standards.
Restaurant grease builds up on sewer walls causing blockages in the sewer system. Restaurant grease contaminates the soil. The grass and soil must be removed and replaced. Grass and plant vegetation will not grow on soil soaked in restaurant grease. The most costly aspect of a sanitary sewer overflow is when raw sewage enters a natural water system (river, creek, lake) or storm sewer. The environmental and financial costs due to restaurant grease clean-up are astronomical. More than half of all sanitary sewer overflows in Canada and the USA are caused from restaurant grease blockages.
Septic Systems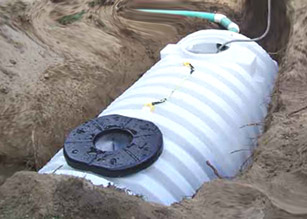 Commercial Septic Systems are often found in rural areas, golf courses, cottage country, and resort properties. Septic Systems do no connect to a sanitary sewer system. They are stand alone tanks that leach effluent into the soil. The soil must both absorb and purify the wastewater on a properly functioning septic system. Food solids fill the tank and harden, reducing the systems efficiency. Drainage of fats, oils, and grease (FOG) cause blockages to the inlet drains. FOG is difficult to degrade and thus creating rancid odours. FOG should never drain into a septic system. Restaurant grease will contribute to the rotting of a septic system. The replacing or repairing of a septic system is costly and a monumental task. Kitchen facilities must be closed down during a septic system repair. A grease recovery device (GRD) upstream of a commercial septic system is a good environmental practice and investment. Never use Grease Trap additives or Septic tank additives with a septic system. The risk is too high to experiment with unproven bacterias, chemicals, and enzymes.
Food Solids in Septic Systems:
Do not put animal fats, oils, grease, coffee grounds, or citrus down the sink. Dairy products and baking ingredients increase growth of septic system microbes that do not degrade sewage.
A septic system replacement is a Substantial Cost
Is your Grease Interceptor up to standards?
Grease Interceptors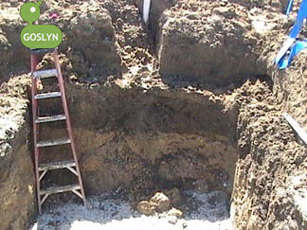 In-ground grease interceptors occupy substantial space. Grease and food solids interceptors are not practical for many restaurant environments with limited space and land requirements. Some Jurisdictions require Grease interceptors to have a minimum capacity of 1000 gallons with a four feet depth. Archictects must factor in the logistics of having the grease interceptors installed, cleaned, pumped, and maintained. Creating a hole to accomodate a 1000 to 2000 gallon cement tank is costly. Steel or PVC interceptor tanks will eventually leak. Clean-up costs are inevitable. Grease interceptors are prone to clogging during colder Canadian weather. When grease interceptors leak, the surrounding lands are contaminated. Many Canadian restaurants have in-ground grease interceptors with 150 gallon or 200 gallon capacity.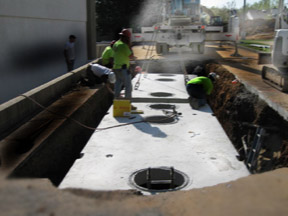 Dimensions of a 2000 Gallon Grease Interceptor:
Grease Intercptor Tank : 17 foot Length x 6 foot Width x 7 foot Height. Precast Weight: 3000 lbs. (approximate)
The proper capacity of grease interceptors must allow a 24 hour period for grease to harden and settle (retention period). Accurate grease interceptor tank sizing is crucial. In many cases, the grease interceptor tank can not handle peak wastewater flow times. Studies have proven that in-ground grease interceptors are only capable of removing 60% of fat, oil, and grease reaching the sanitary sewer. Septic tanks and grease interceptors are subject to considerable stresses being buried underground resulting in cracks and leaking. Cement is considered to be stronger and longer lasting than plastic, and PVC interceptors. Fat, oil, and grease tend to adhere to fibreglass models making the grease interceptor difficult to thoroughly clean, pump and maintain.
Over time, oversized grease interceptors can be a serious concern. With an overized interceptor grease is pumped out fewer times per year as the interceptor can handle a greater capacity of fats, oils, and grease. As the time between pump outs increases so does the bacteria and enzyme populations within the grease interceptor. Rapidly, the contents of the interceptor increase in levels of sulphuric acid. Sulphuric acid causes corrosion to the interceptor. Life expectancy and efficiency of the grease interceptor is greatly reduced.

All Interceptors fail if not maintained
Grease Trap pumping is a monthly routine